Palm Springs-Beijing
Palm Springs - Beijing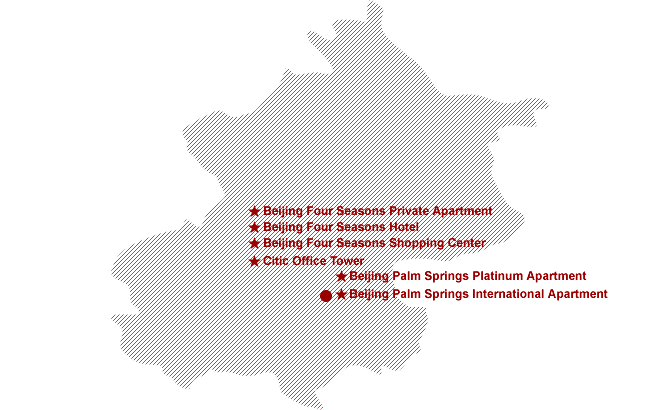 Beijing Palm Springs International Apartment Beijing Palm Springs Marriott Executive Apartments Beijing Four Seasons Private Apartment Beijing Four Seasons Hotel Beijing Four Seasons Shopping Center Citic Office Tower Beijing Palm Springs Platinum Apartment
Beijing is the capital, the political, economic, cultural as well as international communication center of the People's Republic of China.
In 2006, the total amount of the GDP of Beijing was RMB 787.03 billion yuan, until then, the GDP of Beijing had a two-digit growth in the previous eight consecutive years. According to the General Plan for the Development of Beijing City (2004-2020), the average GDP in Beijing area will surpass USD 10000 until 2020.
Beijing is not only an international metropolis, it also represents the public image of China, and its influence on the other cities can extend across China or even around the globe. In addition, Beijing will play an even more important role as China develops.
The Location of the Administrations, Party, Military Organs of CPC.
It is an international contact center (the location of the embassies and institutions of other countries in China), the main place of the highest level of China's national contact with foreign countries.
It is the major location of China's cultural, press, publishing as well as movie institutions, the place for the national-level cultural as well as sports events (the host city of 2008 Olympic Games), and the place where the best universities, colleges, as well as scientific research institutions of China are gathered.
It is the location of the national-level agencies such as those in charge of economic planning and management, market admittance, and market supervision and control, the headquarters of the national level state-owned enterprises, the main national financial and insurance institutions, and their relevant social committees, the innovative, research, as well as manufacturing bases of high-tech products. Actually, it is the financial decision-making center, such as the Central Bank of China, the state-owned banks, China Securities Regulatory Commission, China Bank Regulatory Commission, etc, and it is also a famous tourist place in the world, the service place delivering ancient capital cultural tourist services, and the gateway for international tourism and service.
It is an important gateway of intercontinental aviation, the hub of international aviation, national railway and highway.
No matter what perspective we assume, strategic or realistic, Beijing's economy has a tendency of enjoying a continuous two-digit growth in the years to come, and Beijing will have a more internationalized atmosphere.