Palm Springs-Sanya
Palm Springs - Sanya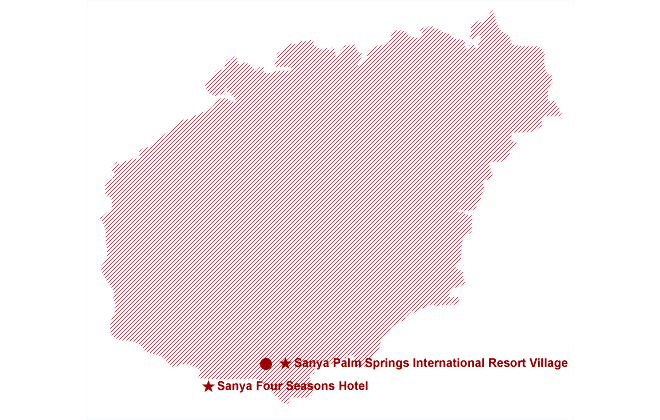 Sanya Palm Springs International Resort VillageSanya Four Seasons Hotel
Sanya City is situated at the most southern tip of Hainan Island, which is the only tropical coastal city of China, gathering ten elements such as sunlight, sea water, beaches, climate, forests, animals, hot springs, mountain caves, fields, and wind regime, so Sanya is one of the places on the earth where tropical oceanic tourism resources are mostly densely distributed. In addition, Sanya has many famous tourist sites such as Yalong Bay, the edge of the sky and the rim of the sea, Luhuitou, Nanshan Temple etc. The density of the negative oxygen ion in the air in Sanya is eight times of that in Beijing, so the quality of the air here ranks the first across China. As for the climate, the average temperature of a year in Sanya is 24 ℃, thus Sanya is one of the best places for people to live in the world. More importantly, Sanya is praised as "Hawaii in China". Sanya's natural conditions richly endowed by nature as well as its abundant human landscapes become its advantages in developing tourism, also making it meet the requirements of building a modern international resort here for people to escape from chilling climate and go swimming in winter. To be short, Sanya is on the list of the first group of excellent tourist cities in China.
Thank to the uniqueness of its tourism resources and its location, as far as its city function is concerned, its influence on the other cities can extend across China and even Southeast Asia. In 2006, the GDP of Sanya ( including agriculture, and the data given here was not appraised by the Provincial Statistics Bureau) reached RMB 10.89 billion yuan, which surpassed RMB 10 billion yuan for the first time with an increase of 14.5% compared to that of the year before. The average GDP of Sanya City in 2006 was RMB 20,973 yuan with an increase of 12.4% compared with that of 2005.
As the tourism industry further develops in Sanya City, the commercial value of Sanya will also grow rapidly.